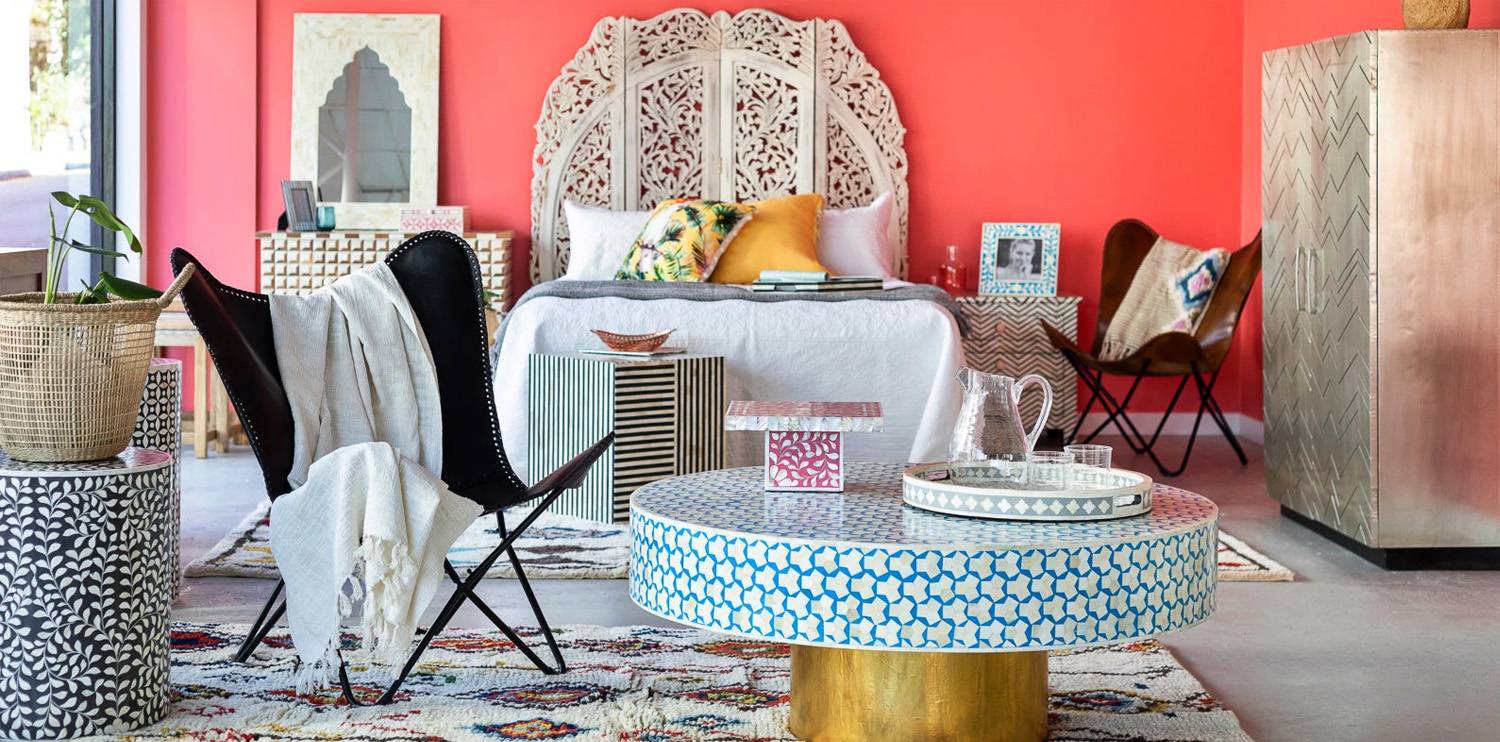 What Is Bone Inlay?
Bone inlay, also known as intarsia, is a home decor trend in which fragments of bone or shell are adhered to the frame of a furniture piece. It is most commonly used on flat surfaces – such as the sides and tops of tables, or the front of a sideboard.
NB EXPORTS HOUSE is Bone Inlay Interior Furniture, which is based in Jodhpur City, Rajasthan, India. We offer quality, modern bone, and mop inlay furniture as well as embossed white & brass metal furniture in a variety of styles. 
The state of Rajasthan in India is famous for Bone Inlay furniture, which is made using an intricate process that requires immense skill and practice. The skill is passed down from generation to generation within a family. In the first step of making bone inlay furniture, camel bone is collected, and pieces are hand-carved to give them a delicate shape. Next, the bone pieces are affixed on the wooden furniture frame to create intricate patterns. In the third and final step, the spaces around the bone are filled, typically with a colored resin background. Animals are not harmed in order to make bone inlay furniture.
Add Your Heading Text Here
ABOUT INDUSTRIAL FURNITURE
Industrial Furniture is inspired by vintage industrial machinery of early industrial revolution period to new engineering ideas from machines.
Tables, Cabinet, Stool, Chair all have some inputs of industrial bases and structure to give it typical machine kind look with comfort level of daily usage of each item.
Material used for industrial furniture remain rough and rustic often like metal and rough wood, reclaimed timber, this bring authentic industrial touch to furniture.
Rustic Metal, Natural Raw metal finish, old vintage look adds grace to furniture; innovative fusion and combination are frequently brought in market by creative team of designer with us.
Each Industrial Furniture and Decor have usage and even multipurpose usage, due to usage of heavy metal and hardware, it remain for whole life, long lasting furniture, often have touch nostalgia of work place and factory which remain evergreen to human.